"K" Line Receives 2013 Port of Long Beach Environmental Excellence Award
May 22, 2014
On 14th May "K" Line received the Environmental Excellence Award for the action to "Green Flag Program" and "Green Ship Program" to reduce the environmental impact in the coastal sea area in 2013 from the port authority of Long Beach.
"Green Flag Program" is a voluntary vessel speed reduction program for ships to reduce speed to 12 knots in the coastal waters in order to reduce emissions of exhaust gas. The port rewards compliant shipping lines according to their participation. "K" Line participated in this program with a total of 58 ships, representing 303 qualifying legs into and out of the port of Long Beach, and achieved this program as the number one company meeting 100% compliance rate within the 40 nautical miles limit with the greatest number of ships in 2013.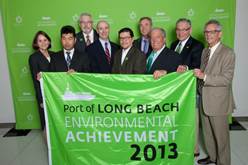 "Green Ship Program" is a voluntary program which has encouraged vessel operators to assign ships which emit fewer NOx (Nitrogen Oxide) in their exhaust gas to the port and we were awarded the this program in total of the 4 target vessels with 9 callings from the port authority in 2013.
The port authority is asking ship operators to participate these programs in order to prevent air pollution in the coastal area. We were awarded the green flag program for nine consecutive years and awarded "Green Ship Program" at first time.
The "K" Line group positively continues to participate in worldwide environmental conservation and contribution to marine and global environmental protection.