"K" Line group company, Ka Fung started the Break Bulk Lorry Service in Guangdong Province
May 28, 2006 -The group company of Kawasaki Kisen Kaisha, Ltd. ("K" Line), Ka Fung has launched the Break Bulk Lorry Service within Pearl River Delta Area in Guangdong Province which is an additional service of Ka Fung's container trucking services operated by its wholly owned international forwarding company "Shenzhen Jia Feng Shipping Co., Ltd." since June of last year.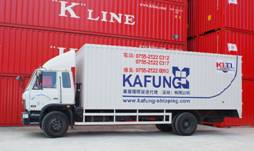 Shenzhen Jia Feng Shipping Co., Ltd. has 30 self-owned tractors and chassis providing the container trucking services to customers in Shenzhen and Pearl River Delta Area. The Break Bulk Lorry Service is to further cater the various needs of customers in trucking services such as the milk run services within the area.
In line with the development of logistics services of "K" Line's group company in the Pearl River Delta Area, Ka Fung is confident to grow up as a full-swing service provider with self-owned high quality trucking fleet both in container trucking and break bulk lorry trucking all installed with GPS devices.
Description of break bulk lorry deployed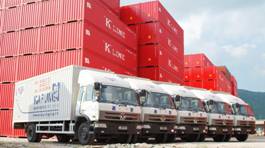 A fleet of 5 units of lorry with loading capacity of 6000 kgs each
Another 5 units of lorry will be put into service within this year
Seal cabin of steel with rear door open for cargo loading and unloading
Maximum cargo capacity reaches 35 cubic meters in volume
GPS monitoring system installed for multi-function monitoring
Ka Fung (Agencia De Navegacao Ka Fung Lda.) was established in Macau since 1984.
It has long been a sub-agent of "K" Line Hong Kong, handling the shipping operations in Macau and in the region of Pearl River Delta.