Groundbreaking Ceremonies for "K" Line Maritime Academy (Philippines)
October 17, 2006 - TOKYO , Japan. Kawasaki Kisen Kaisha Ltd. ("K" Line) announced "K" Line's Ship Management Structure to Sustain Safety and Quality to achieve the interim management plan "K" Line Vision 2008 + , on 25 th May this year. To promote its planned expansion of business operations, "K" Line has put together the principles and various initiatives to establish a ship management structure geared to sustain safety and quality.
One of the frameworks was a plan to build a new Training Center in the Philippines based on "K" Line Maritime Academy (KLMA) concept, and in realization a groundbreaking ceremony was held at the new site of KLMA ( Philippines ) in Pasay City on 16th October.
The ceremony was attended by government officials including the Undersecretary of the Department of Labor and Employment Danilo P. Cruz, Mayor of Pasay City Allan T. Panaligan, and Katsue Yoshida, the Senior Management Executive Officer of "K" Line. The occasion, traditionally held to bring safe construction was also graced by other notable figures in the maritime and shipping industries. The project is set for completion at the end of 2007.
Three times as large as the present one, the new Training Center will accept a total of 10,000 trainees a year, has accommodations for 110 people, a dining room, and a clinic. An actual-sized main engine in the workshop and a full-mission engine simulator will be set up especially for skills upgrading of Marine Engineers.
To supply highly-skilled seafarers, "K" Line groups are at work and are the main force behind the training center project, aiming to further improve and maintain the "K" Line brand of Security, Safety, and Trust.
Outline of Manila Training Center
Present Training Center
"K" Line MARITIME TRAINING CO.
New Training Center
KLMA-PHILIPPINES
Foundation
1993
End of 2007
Site Area
Floor Space
1,400 m2
2,800 m2
3,400 m2
7,400 m2
Accommodation
40 person / day
110 person / day
Total Number of
Man-days
4,000 persons / year
10,000 persons / year
Clinic
-
KL-Clinic
Main Training
(Equipment)

LNG Cargo handling simulator
Main Engine Maneuvering System Simulator
Lathe Machine, Welding training course.

Newly Established training courses

BRM Training (Ship Handling simulator)
Main Diesel Engine Maintenance Course
(2-cylinder Real Main Engine)
Engine Room simulator Course
(Full-Mission Engine room simulator)
Boiler combustion control course
(Boiler combustion control system simulator)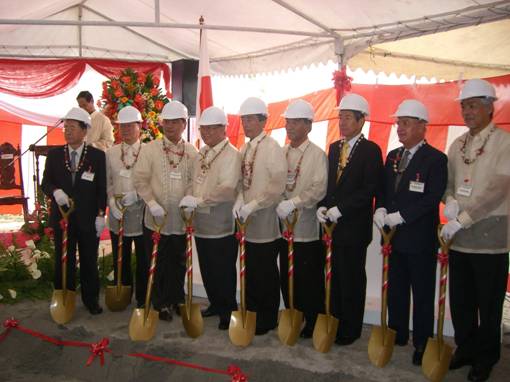 (from left to right) Yosuke Nawa, Executive Vice President of Taisei Corporation; Shigeru Kojima, Director of "K" Line Ship Management Co., Ltd.; Allan T. Panaligan, Mayor of Pasay City; Donilo P. Cruz, Undersecretary of the Department of Labor and Employment; Katsue Yoshida, Senior Managing Executive Officer of "K" Line; Kozo Eguchi, Managing Executive Officer of "K" Line; Tadao Hayashi, President of Taiyo Nippon Kisen Co., Ltd.; R.C.Garcia, President of Ventis Maritime Corporation; Shoichi Maeda, Representative at Manila Office of "K" Line