"K" Line Donates Reefer Containers to Quake-Stricken Area in Tohoku, Japan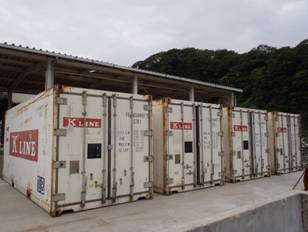 August 25, 2011 - Kawasaki Kisen Kaisha, Ltd. ("K" Line) has donated five 20-foot reefer containers to Kesennuma City in Miyagi Prefecture and Miyako City in Iwate Prefecture, which suffered devastating damage from the March 11 earthquake and tsunami.
The donation was made in cooperation with "Kibo-no-Noroshi"(+), an aid fund supported by the Ministry of Land, Infrastructure, Transport and Tourism as well as the Fisheries Agency of Japan. The reefer containers, which were delivered to the destinations on August 22, will be used for refrigerated storage of fishery products at fish processing facilities in the two cities - 4 units in Kesennuma, 1 unit in Miyako
"K" Line continues to proactively take part in various relief activities in the quake and tsunami stricken areas by using its resources as a shipping company.
(4 units arrived at Kesennuma City)
(+) "Kibo-no-Noroshi", which literally means "Beacon of Hope", is an newly-established private aid fund for the purpose of ensuring the supply of essential equipment (such as reefer containers, forklifts, etc.) to assist in re-opening fish markets within the March 11 disaster-stricken areas.