"K" Line Line Provides Ocean Transportation of Fire Engines and Ambulances
Donated to the Republic of El Salvador
April 20, 2017
Kawasaki Kisen Kaisha, Ltd. ("K" Line) has announced that it is providing free ocean transportation of a fire engine and two ambulances donated by Japan Firefighters Association to the Republic of El Salvador.
In order to contribute to the well-being of international society, mainly in terms of improvement of fire defense systems in developing countries, Japanese Firefighters Association has been donating fire engines used in Japan to countries overseas. As a part of these activities, it is donating three vehicles to El Salvador this time.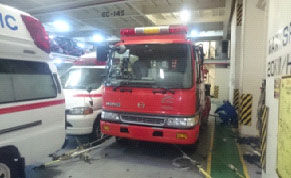 Fire engine being loaded on "K" Line's "BRASILIA HIGHWAY"
These vehicles have been put in order for usage in El Salvador supported by Japan - El Salvador Association, and on April 18, with cooperation of Daito Corporation, an affiliate company of "K" Line, the vehicles were loaded onto "K" Line's pure car carrier (PCC) at Yokohama that will call at the port of Acajutla, El Salvador in early May.
"K" Line has been acting as Honorary Consul El Salvador in Japan since 1969, and has supported free ocean transportation since 2014 in order to contribute to the reinforcement of emergency vehicles in the country.  This is the fourth such opportunity in which "K" Line has supported free ocean transportation for a total of 12 donated vehicles to the country (7 fire engines and 5 ambulances).
The vehicles being transported help promote safety activities such as not only firefighting and lifesaving when fires break out, but also for extra-curricular safety measures which firemen teach children to prevent accidents and fires in their country.